Post by Souriquois on Jun 16, 2017 17:56:27 GMT -4
Internet Atheists Fucking Suck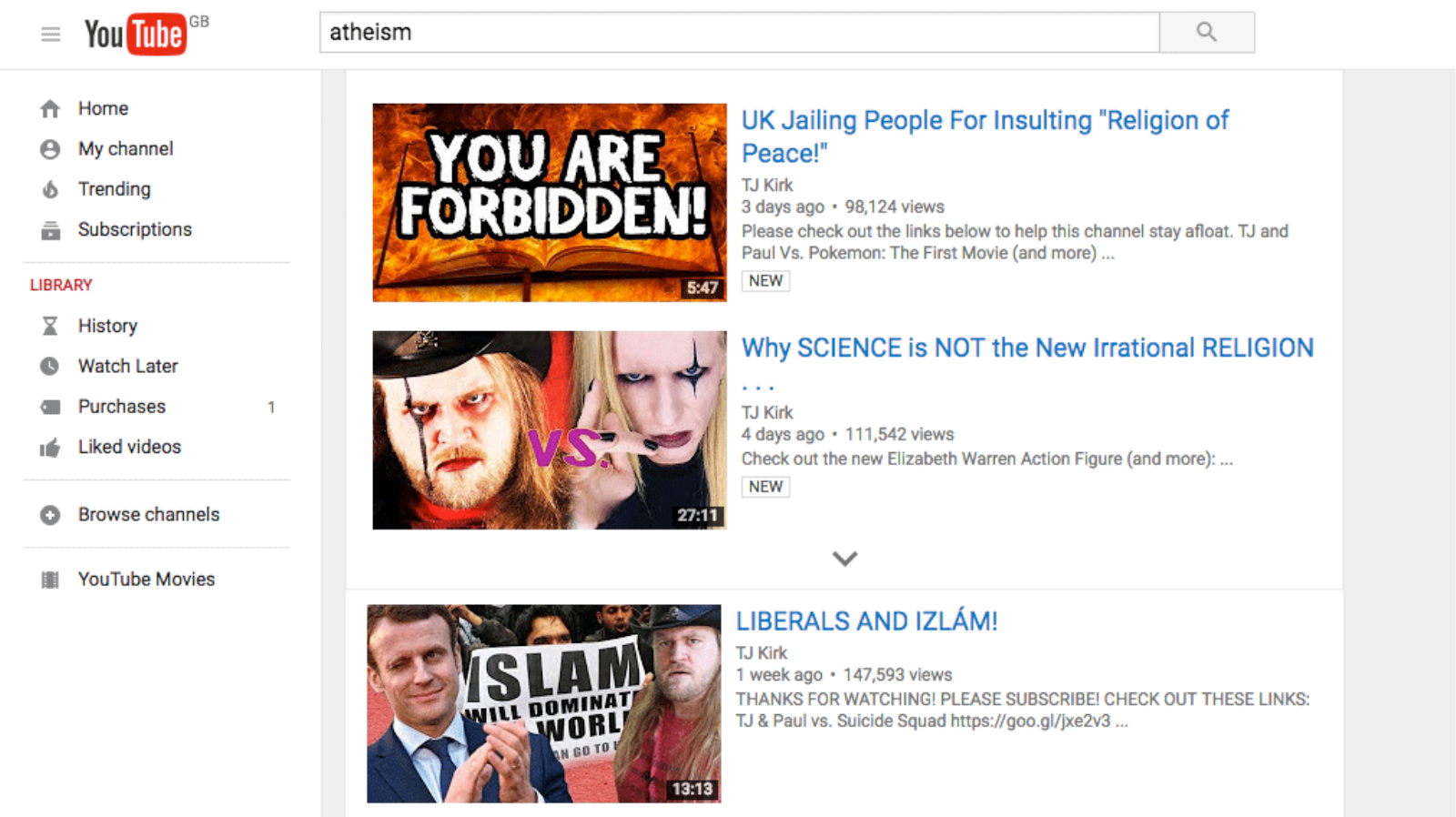 Being an atheist doesn't mean you can be racist, Islamophobic and misogynistic.


Religion is a popular topic online. Not because people want to have in-depth theological and philosophical debates, but because if you're a religious person with a social media account, they want to call you: a) a paedophile; b) an irrational moron; or c) a rapist paedophile.
Last week, while I was tweeting jokes about the general election, two guys – both with avatars of a smoking Christopher Hitchens – responded to me with cartoons of Prophet Muhammad (cartoons, as I'm sure you can imagine, that weren't particularly savoury), demanding I retweet them to prove I "supported free speech". When I politely declined, I was called an Islamic terrorist rapist paedophile. Some punctuation might have cleared up exactly what they meant, but I got the sense they weren't particularly happy with me.
This kind of thing is fairly commonplace these days, but that specific incident reminded me of why I chose to leave the online atheist community – and why many others are doing the same.
I became an atheist for a few years during my late teens and early twenties. A combination of metal-induced angst, anime chat forums and a charity shop copy of Hitchens' God Is Not Great led me away from the Islam I grew up with and toward the supposed enlightenment of atheism.
Like the majority of young people who grew up in religious environments – particularly those from non-Christian backgrounds – my first interaction with atheism was also my first meaningful engagement with the internet. In these atheist forums I found a race and class-blind safe space, one in which I could express a private contempt for the theological doctrine I had been forced to study during my years in religious school. Indeed, in those atheist communities on the now defunct Totse.com, eBaum's World and, eventually, the darker corners of Myspace, I found a community in which I could reject the identity I was born into, and instead forge a new one on my own terms.
Yet, for a growing number of people who turn to the internet to talk about leaving religion, the online atheist / sceptic community has become more alienating than accepting. Atheism – like most online communities – has always had characters who enjoy being confrontational; Pat Condell – the former comedian, turned old man shouting at clouds – existed long before Reddit. However, recently, rather than remaining an outlier, content like Condell's – which disregards theological critique for snarky racial and orientalist tropes about Muslims – has become a staple of the online atheist community. And thanks to the rise of populism across the western world, connections between the internet's atheist community and far-right identitarians have never been more clear.
To understand where online atheism is at the moment, you only need to do a quick search on YouTube – the platform that acts as a gateway for most people entering the internet atheist community. Some of the most popular viral videos include "How Feminism Destroyed 'New Atheism'" by ThunderF00t; "Rape, Feminism, and The Amazing Atheist" by "The Amazing Atheist", TJ Kirk; and various videos of Milo Yiannopoulos talking about atheism on college campuses.
Spend some time looking at this stuff and you'll find there are few videos critiquing religion intellectually, or offering support to new atheists. Instead, the videos that seem to resonate most are those that use atheism as a smokescreen to comment on the horrors of female body positivity, of sex dolls "triggering" feminists and, of course, those hooked on British tabloid articles claiming the impending overthrowing of Western civilisation by invading Muslims. It's the kind of thing you might see your Britain First-following uncle post on Facebook, before calling for all halal butchers to be closed because "they fund ISIS".
As you can imagine, this kind of content does remarkably well – and some of the biggest characters in the internet atheist community have followings of well over a million. But it has a cost, too. "If you're an atheist and a person of colour, watching these videos and being in these reddit forums can be really uncomfortable," says *Shaima, who leads an ex-Muslim support group on Facebook. "On the one hand, the atheist community almost fetishises people who've left Islam, but it's not because they care about us; it's because it reinforces their assumptions about what Muslims are.
"The majority of ex-Muslims leave Islam because they have issues to do with theology. There is a fear of being cast out by your community, but the process of leaving Islam is basically the same as anyone leaving a religion. Yet, the online atheist community – whose spokespeople are apparently white straight guys – make these videos talking about Muslim barbarians raping white women, or imposing sharia law on schools and cinemas. They don't realise that they're implicitly talking about our families, friends, the people we still care about."
Shaima's experience isn't an isolated one. Over the past few weeks I've spoken to a number of atheists from minority backgrounds who've detailed stories of receiving verbal racial and sexual abuse in the internet atheist community – including receiving rape threats from men identifying as "rational sceptics" for defending migrant refugees. And while everyone involved in the community has long known that racism and misogyny has always existed among internet atheists, the sudden upsurge has meant that some – including those who've previously "rejected" identity politics – are beginning to expose the problem.
Last year, YouTuber Steve Shives published "5 Toxic Things About YouTube Atheism", detailing instances of subtle sexism and racism, cloaked in "rationalist" intellectualism, that exists in the online atheist space – while other sceptic YouTubers, like Jaclyn Glenn, have warned that certain sections of the online sceptic community could be isolating some of its most vulnerable members. Unsurprisingly, the people who espouse the ideas Shives criticised got a little upset.
It's unlikely that the online atheist community will collapse any time soon; it's by far the fastest growing religion-related movement on the internet. But it is likely that the growing concerns over racism and sexism in the community might force it to splinter into more identitarian factions, despite the internet atheist movement superficially rejecting those isms.
The internet atheist community has shifted so far away from its stated aim of offering safe havens to people wanting to determine their identities themselves. It's no longer about wanting to be better than religious groups which impose orthodoxy or restrict free thinking; all that has been eclipsed by guys who get off on being outraged; who scream "triggered" at anyone with a Muslim-sounding name or an "I'm with Her" hashtag in their Twitter bio.
And of course, this achieves nothing but further isolating those who seek out the community for help.
www.vice.com/en_uk/article/a-reminder-internet-atheists-fucking-suck?utm_source=vicefbuk&utm_campaign=global
This is one thing I have noticed. The online atheist community has become pretty much a den of white supremacy and misogyny. I don't talk to atheists, I do not often openly identify myself as one either.
This is the same with many communities of my interests: I like tech, video games, and comics... anything on these subjects online is packed with white boys with far-right views who end up driving away any female or minority with their attitude problems. It's like white males have ruined everything I am interested in.